We are providing Information Security-Related Supporting Services for Medical Corporations and Facilities, Health Insurance Associations, Health Practitioner Support Organizations and Social Welfare Providers in a policies listed below solely, or in the cooperation with the organizations of Information Security and/or of Cyber Crime Prevention Institutions we belong to. These services should be lead by our specialists who has the certifications of internal audit or upper ones.
The Services for Medical, Public Administration and Welfare Providers
It is too difficult to equip the specialist who fully understand and completely execute the information management processes with complying to the requirement from elated laws and guidelines to medical related organizations.
We support to build your operation procedures, documents and management processes centralizing Privacy Protection Acts and the execution guidelines, MHLW(*1) Safety Guidelines for Medical Information Systems.
The Services for Pharmaceutical, Medical Devices Manufacturers
Adding to above laws and guidelines, considering that many of our customers may aim to expand the business internationally, we support your necessary certification acquisition and processes building for your strategies through the close engagement and tough discussion on expected levels with your team, existing systems vendors on behalf of you, with the deep understanding of HIPAA in United States, FDA regulations and GDPR in European Union.
Please also check "1. Medical Devices Regulatory & Security Compliance".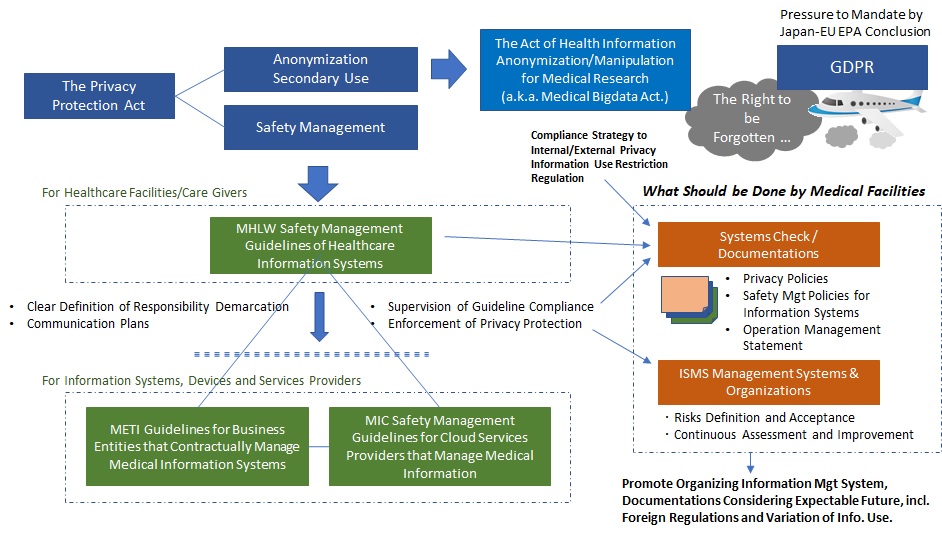 An Overview of Health Information Security Background in Japan
*1) MHLW = Ministry of Health, Labor and Welfare