Home
Details

Hits: 553
Release 14th March, 2023
 
We are pleased to announce that we opened our EC site shop "Aukes Healthtech Marche" on some global EC sites listed below, in partnership with Concierge Medicine Inc. (Tokyo, Japan), to support some excellent manufacturing companies who are tackling social issues with adult desease prevention.
Especially Plasmalogen BOOCS Special and additional good enhanced the active ingredient have goos and plenty of clinical evedence to prevent dementia.
Products are also listed at our page https://auks-healthinfo.jp/index.php/en/services-en/sv-products-sol
Please look forward to seeing additional products listed there and enjoy you & families' lives !
Thank you.
Details

Hits: 4895
Release 23rd December, 2020
 
Please be informed that we launched e-mail security consulting service focused on the introduction of DMARC (SPF/DKIM/DMARC) under the cooperation with Medical ISAC Japan for Japanese users only.
We are sorry for the inconvenience to English reader, but the description about the service is written in Japanese only. For those located in Japan, please contact directly from the inquiry box to get more details.
Thank you.
Details

Hits: 5767
Release 15th May, 2020
 
Please be informed that our representative, Haruki ito posted some thoughts on LikedIn about indicated on the subject. Due to posting restriction there, the article had to be divided into three parts, so let us please summarize into one column here.
---
When I was very young, I met Graph Theory and chose it as the main theme of graduate study of communication engineering degree. At that time, our shared UNIX workstation had less power, so we had to take one week for a simulation of max clique extraction from a random graph with only 500 vertices and unweighted, undirectional edges.
Besides the computing speed in old time, the theory can apply to many thing, not only the extraction of clique/independent set, also the computation of centrality, similarity, betweenness, and so on. Everything is being used for today's network-modeled analysis and pleasure to review it expands.
My interest in last three years was in applying it for Privacy Protection. Reviewing the battle formation of attacking threat models, and protection methods and strength indexes such as k-anonymity, t-diversity, t-closeness, etc. collide each other is really thrilling but actually practical for my business - Personal Health Record designing.
Representing the each formation into graph would be the good way to visualize to make the good understanding of trade-off between privacy level setting and evaluation of data use for the providers and demanders.
(Link to one of columns about PHR development overview - Login to LinkedIn may be required)
About Graph Theory, Graph Database and Brainscience Research #1


---

Applying Graph Database to full implementation of Graph Theory would require many function of geometric computation of clique, centrality, filtering and layering for the dynamic and clustered information structure, but thanks to the inventor of the database, I may no more be tied up with the programming of matrices and recursive algorithms like I was doing at the school.
Also I recently work with Mr.Obayashi and helping his brain connection and functional inheritance from nematode neuron research what is finally targeting the realization of Genral Artificial Intelligence (AGI), in belief that demystifying the firing pattern and the information transferred between the neurons would surely help simplify the realization of AGI and low-power-requiring/self-organizing memory system.
Read more: About Graph Theory and Graph Databases for the Brain Science Researches
Details

Hits: 6107
Release 1st May, 2019 (Japanese Era, Reiwa 1st)
Lastly revised on 3rd November, 2019
We are pleased to announce that Auks Health Informatics Lab, LLC (AHIL) is now preparing a re-organization to a joint-stock corporation, named Northern Healthcare Associates, Inc. to expand our business especially in enforcement of our supports for artificial intelligence technology development in healthcare industry in the field of software development, project management, intellectual property management and acceleration of commercialization by leveraging cloud security compliance and privacy control for application of EHR/PHR.
The Project is the first stage of our AI development strategy, and the purpose is to forming joint venture and enforce the capital of our company to make ourselves capable enough to secure the intellectual property of brain-type AI research at MetaCube, and actually contribute in-person in technical evaluation and streamline the commercialization processes for second stage, with leveraging our technologies in brain connectome analysis and experiences in medical devices development and actual application into patient diagnosis and therapies.
Mr. Masaharu Obayashi says;
"Many of the mechanisms of brain functions such as memory have not been elucidated yet. We are trying to solve brain-type memory and brain-type architecture by reverse engineering based on knowledge and hypothesis of medicine and cognitive science. We believe that the memory is that the firing pattern that is generated based on the synaptic connection strength on the layered neural network is generated synchronously."
Since he is in a preparation for the submission for NEUROSCIENCE 2019 in the United States by Society of Neuroscience, the latest research information cannot be disclosed, but we believe eligible information would be soon available on this site, and MetaCube's web site.
You can find the document discusses the joint venture and mid-term timeline below with password-protected PDF: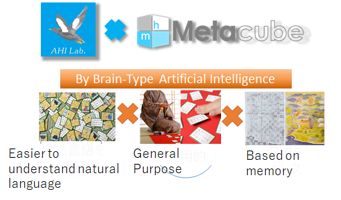 Executive Summary - AHIL Enforcement to Form Brain-Type AI Solution Development Joint Venture (Phase 1-2)

Please ask individually for the password to access
(Download of the summary is no more available due to great progress of the project. Please contact AHIL for the latest information)
Revised on 25th June: 
Our research leader, Mr. Obayashi's abstract for Neuroscience 2019 was accepted and his dynamic poster session is scheduled on Wednesday, October 23, 2019. Please look forward to attending his presentation titled "Nematode and human brain architecture", and if we are lucky, let's see there and discuss further.
Revised on 31st August: 
We received a testimonial comment from Dr. Richard M. Soley, Chairman and Chief Executive Officer of Object Management Group to Mr. Obayashi's research and coworking experience with him.

"I believe that Metacube's approach, while complicated and challenging, represents a strong choice in sharing and communicating medical data.  Most medical data coding systems are focused on charging, not on the human medical information necessary for medical professionals; by starting from first principles (literally the internal structure of the low-level nematode neural network) Metacube hopes to be able to model real conditions and thus support real medical pathways.  They have a strong case for this approach in the era of neural recognition systems, which are taking over the information systems world."
---
Revised on 3rd November: 
Mr. Obayashi has attended SfN and performed the presentation on 23rd October. Detailed report is introduced on LinkedIn site here. We sill proceed our activities to Second Phase Research and Fundraising. If you have any question, please contact at LinkedIn, Inquiry Box from this web site and directly contact if you already have a connection with Mr. Obayashi and me.
Details

Hits: 6174
Hello
Thank you for visiting our web site. We established this company, very very small consulting firm in July 2017 to provide wide range of health informatics services leveraging plenty of experience in Product/Project Management, Quality management and in recent, Information Security Management and Privacy Protection.
Privacy protection regulation and information security requirements are indeed getting stricter year by year for all of us to develop new functionalities not just with software but also with health/medical devices and medicines, but this would be also a great chance to develop revolutionary product combining new cloud-based technologies and rapidly collect market needs to differentiate your business and products !
We serve;
Consulting/Agency or Representative works for ambitious Japan market-in healthcare business groups/persons  

Information security assessment, audit/documentation support and IT life cycle support for health and welfare facilities and medical device/pharmaceutical entities who work in Japan

Project/product management in PHR design/development with cross-facility/standard connection, anonymization/pseudonymization policy building, data use purpose agreement and meaningful use application planning.
Especially enforcement of your business in the scope of "3" above would be very important to expand IT utilization and pioneering new market requirement. We are eager to work with you in this exciting opportunity.
Our Approach
Visualized Process Building



Using visualization tools appropriately, leveraging specialties in Graph and Tree Analytics

Aligning Together on Project Management Tools



Sharing Project Responsibility & Progress utilizing customized JIRA Management Tool

Team Approach



Flexibly organizing multi-functional team with expert in each field for foreign medical device developers
We are eagerly looking forward to working with you. Please make your question freely for your interests from Quick Contact Page.
Thank you,


Haruki Ito
Representative, Chief Analytics Officer