Release 1st May, 2019 (Japanese Era, Reiwa 1st)
Lastly revised on 3rd November, 2019
We are pleased to announce that Auks Health Informatics Lab, LLC (AHIL) is now preparing a re-organization to a joint-stock corporation, named Northern Healthcare Associates, Inc. to expand our business especially in enforcement of our supports for artificial intelligence technology development in healthcare industry in the field of software development, project management, intellectual property management and acceleration of commercialization by leveraging cloud security compliance and privacy control for application of EHR/PHR.
The Project is the first stage of our AI development strategy, and the purpose is to forming joint venture and enforce the capital of our company to make ourselves capable enough to secure the intellectual property of brain-type AI research at MetaCube, and actually contribute in-person in technical evaluation and streamline the commercialization processes for second stage, with leveraging our technologies in brain connectome analysis and experiences in medical devices development and actual application into patient diagnosis and therapies.
Mr. Masaharu Obayashi says;
"Many of the mechanisms of brain functions such as memory have not been elucidated yet. We are trying to solve brain-type memory and brain-type architecture by reverse engineering based on knowledge and hypothesis of medicine and cognitive science. We believe that the memory is that the firing pattern that is generated based on the synaptic connection strength on the layered neural network is generated synchronously."
Since he is in a preparation for the submission for NEUROSCIENCE 2019 in the United States by Society of Neuroscience, the latest research information cannot be disclosed, but we believe eligible information would be soon available on this site, and MetaCube's web site.
You can find the document discusses the joint venture and mid-term timeline below with password-protected PDF: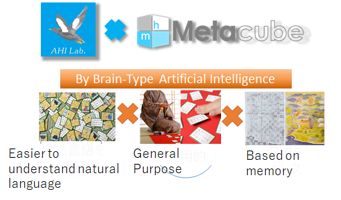 Executive Summary - AHIL Enforcement to Form Brain-Type AI Solution Development Joint Venture (Phase 1-2)

Please ask individually for the password to access
(Download of the summary is no more available due to great progress of the project. Please contact AHIL for the latest information)
Revised on 25th June: 
Our research leader, Mr. Obayashi's abstract for Neuroscience 2019 was accepted and his dynamic poster session is scheduled on Wednesday, October 23, 2019. Please look forward to attending his presentation titled "Nematode and human brain architecture", and if we are lucky, let's see there and discuss further.
Revised on 31st August: 
We received a testimonial comment from Dr. Richard M. Soley, Chairman and Chief Executive Officer of Object Management Group to Mr. Obayashi's research and coworking experience with him.

"I believe that Metacube's approach, while complicated and challenging, represents a strong choice in sharing and communicating medical data.  Most medical data coding systems are focused on charging, not on the human medical information necessary for medical professionals; by starting from first principles (literally the internal structure of the low-level nematode neural network) Metacube hopes to be able to model real conditions and thus support real medical pathways.  They have a strong case for this approach in the era of neural recognition systems, which are taking over the information systems world."
---
Revised on 3rd November: 
Mr. Obayashi has attended SfN and performed the presentation on 23rd October. Detailed report is introduced on LinkedIn site here. We sill proceed our activities to Second Phase Research and Fundraising. If you have any question, please contact at LinkedIn, Inquiry Box from this web site and directly contact if you already have a connection with Mr. Obayashi and me.